We all stamped tonight - even sons! They were thrilled to be included and put their own fun spin on the cards we made.
Our first card was made with the stamp sets Bugs & Kisses and Bodacious Blossoms.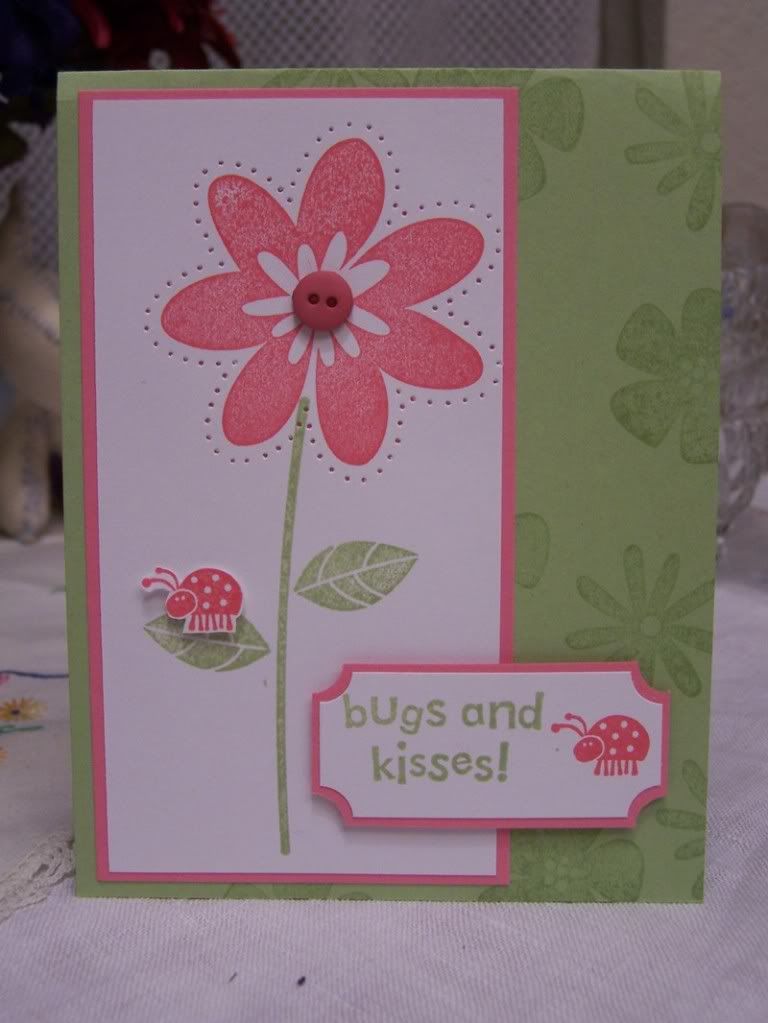 This was stamped on Certainly Celery, Regal Rose and Whisper White card stock using Certainly Celery and Regal Rose inks.
We used the punch tool for the flower outline accent and a dimensional for the ladybug on the leaf.
Cute, Simple, and a hit!
Our second card was this very cute little monkey waving a BIG thank you!
Stamp sets are Monkey Business and Seeing Spots, with Linen Background.
We used Cool Carribean, Regal Rose, Chocolate Chip and Whisper White Card Stock along with Tempting Turquoise, Regal Rose and Chocolate Chip inks and a Turquoise grosgrain ribbon.
I really like this Cool Carribean Card Stock and will have to order some -- it is a really nice between color for the Bashful Blue and Tempting Turquoise that we use a lot of.
Now, if you notice, the little monkey is wearing a 'banana skirt' -- so the boys decided to improvise a bit when they made their cards!
J (dear son 2) went totally wild and decided to dress his monkey with the bananas! You'll see he has the fashionable turquoise banana trousers, the matching banana top and a cute, I mean Very Smart beret to top it all off.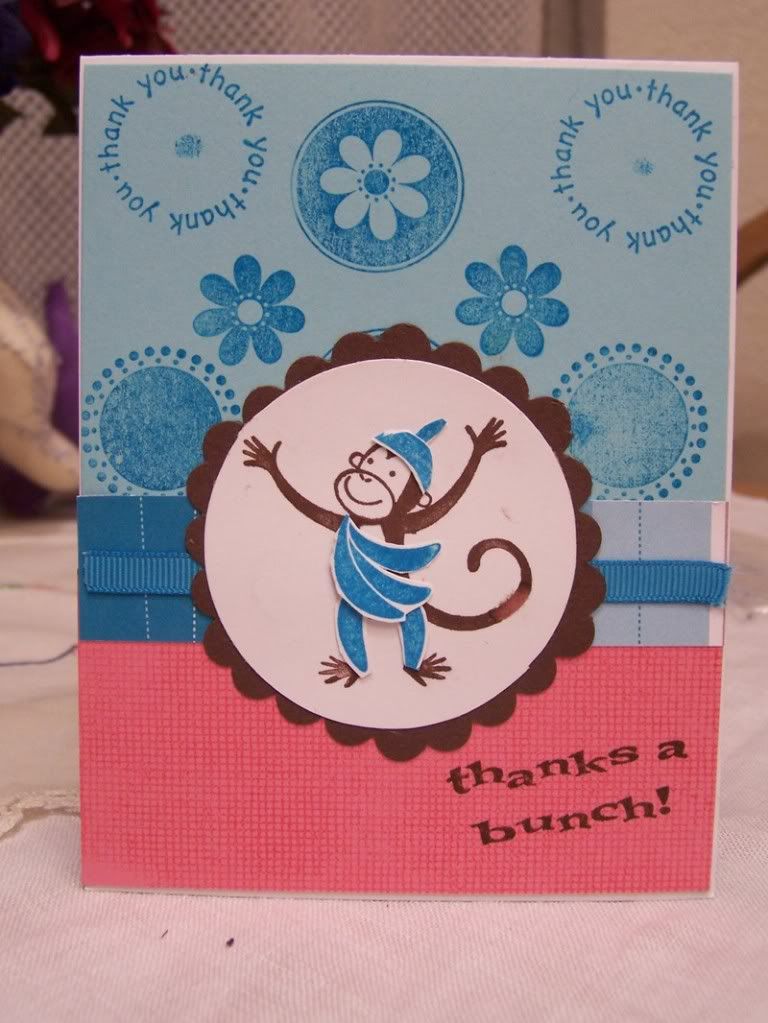 H (dear son 3) decided to use bananas in the background instead of the flowers - and he opted for no skirt. Go figure. He says this card is going to Grandma C. He placed his request for the Bugs & Kisses Stamp Set - and since it was his idea, I have never really paid attention to it until he pointed it out ot me, I got it for him! (picture below)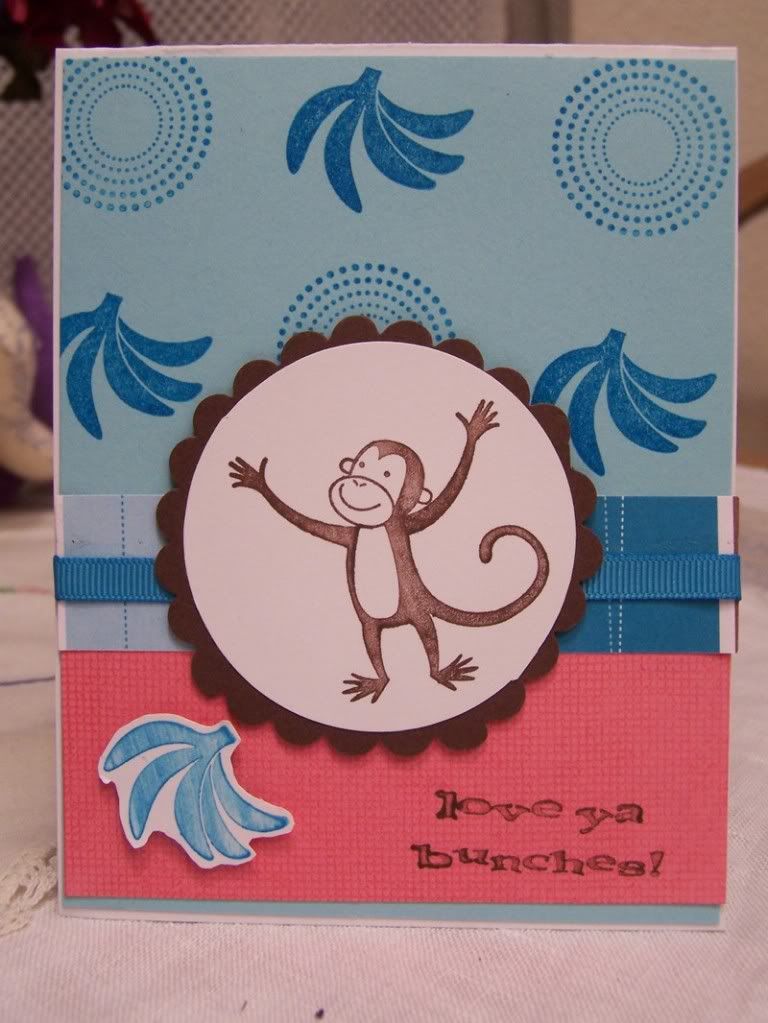 R did a wonderful job on her card, too!
She's been wanting this Monkey Business set to go along with her Wild About You Stamp Set -- so now she can have the monkey hanging over the crocodile! ARHHhhhhh!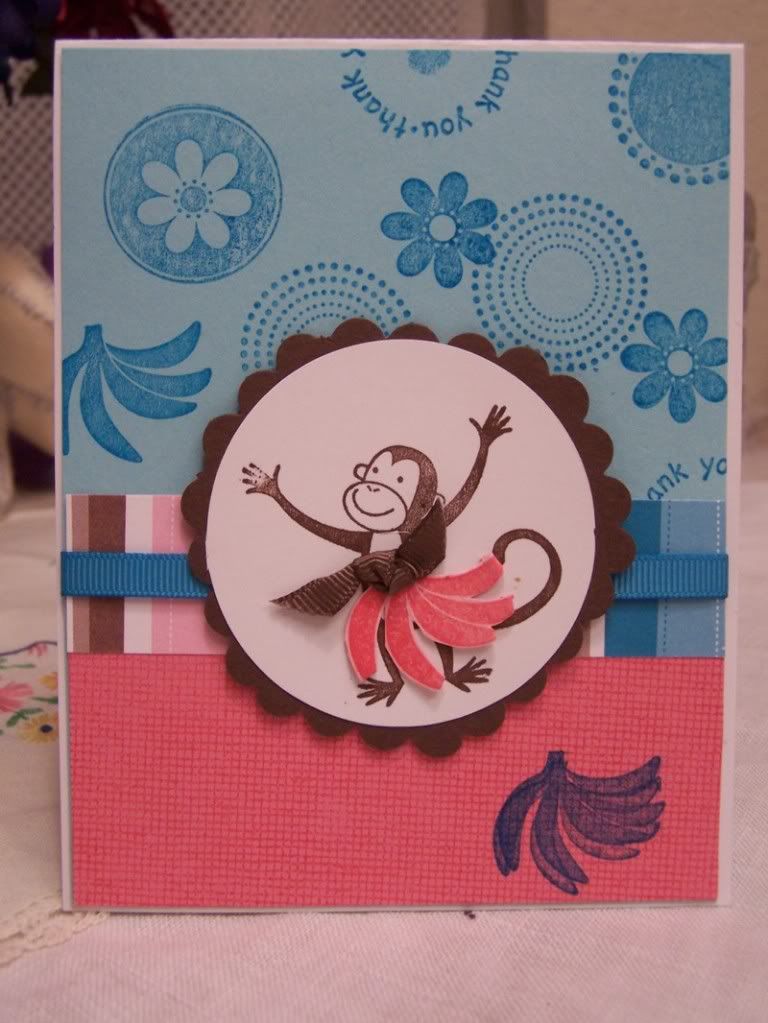 Here is H's new Stamp Set. Aren't those bugs just too cute? I love the snail!
And a friend brought a little gift for me tonight -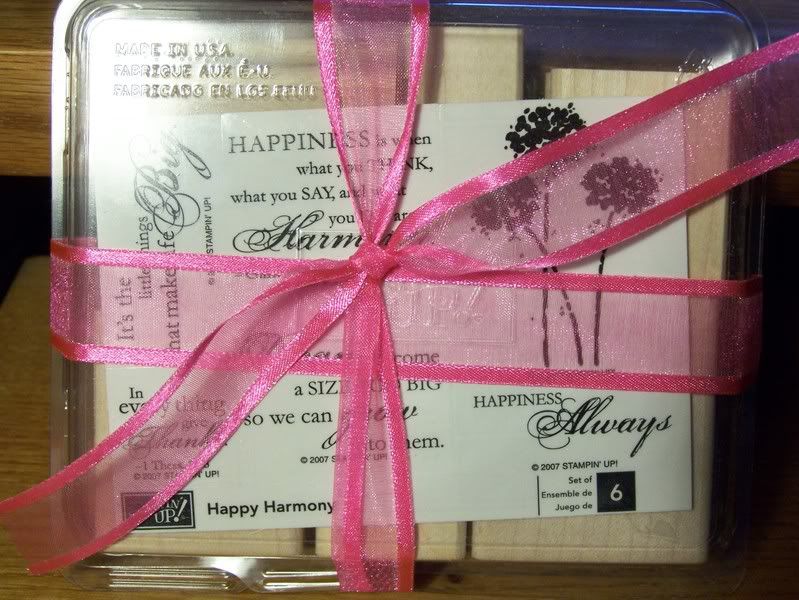 How very sweet is that?
Thank you, Thank you. What a blessing it is to have wonderful friends!
(Originally published @ henandchicks.typepad.com)