N
ot a lot of time for dinner tonight - we're going stamping! - so I made one of our favorite's, Popover Pizza.
A really simple recipe and easy to double, which I do so that we can have some for lunch tomorrow!
This is from The Southern Living Cookbook that I borrowed from my mom about 11 years ago. I hope she doesn't want it back anytime soon. ;-) As always, the first time I make a recipe I follow it exactly. Then if it is good enough, we tweak it and make it our own - so what follows is essentially the Southern Living recipe with a few little changes made by the children and I.
Popover Pizza
1 lb. mild italian sausage

1 large onion, chopped

3-6 cloves of garlic, minced

1 15 oz. jar pizza sauce

1 sm. can of mushroom pieces, or 1 cup fresh mushrooms sliced

1 15 oz. can olives, sliced

2 cups shredded mozzerella cheese

2 eggs

1 c. milk

1 T. vegetable oil

1 c. flour

1/4 t. salt

1/2 c. grated parmesan cheese
Cook sausage, onion, and garlic in large skillet until meat is browned; drain fat. Add sauce - after pouring sauce from jar, add about 1/4 c. of water to jar and shake to get remaining sauce then add that to the skillet also along with mushrooms and olives. Stir well and simmer 10 minutes.
While sauce is simmering, beat eggs, milk and oil in bowl until foamy. Add flour and salt, beating with wire whisk until smooth.
Spoon meat mixture into a lightly greased 9x13 dish, then sprinkle with mozzarella cheese. Pour batter over meat mixture. (Yes, it is very thin and looks like nothing at all, but trust me - it will be wonderful!) Sprinkle with parmesan cheese. Bake at 400F for 30 mintues, or until the top is puffed and golden brown. Cut into squares and serve hot. Serves 6.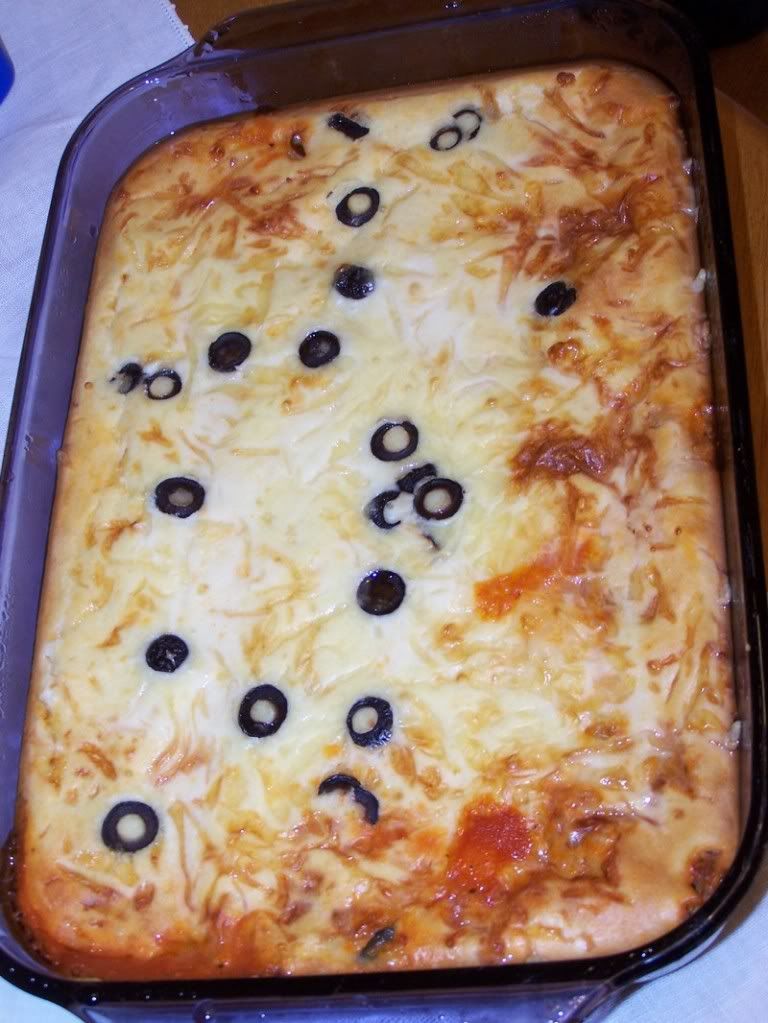 NOTE: This is just a great basic recipe that you can adapt to fit your family. Whatever you may like on your pizza, go ahead and put it in! When I double this, I add 1 lb. ground beef and 1 lb. of sausage to stretch the sausage. I cook the meat mixture all together but mix the crust ingredients separately so that they are equal. You could also add spaghetti sauce and some diced tomatoes (without the olives) for a more Spaghetti-type dinner. And the crust on this is so easy and delicious that I can imagine it poured over any kind of meat/vegetable mixture - like chicken and broccoli with cheddar cheese. Delicious!
(Originally published @ henandchicks.typepad.com)