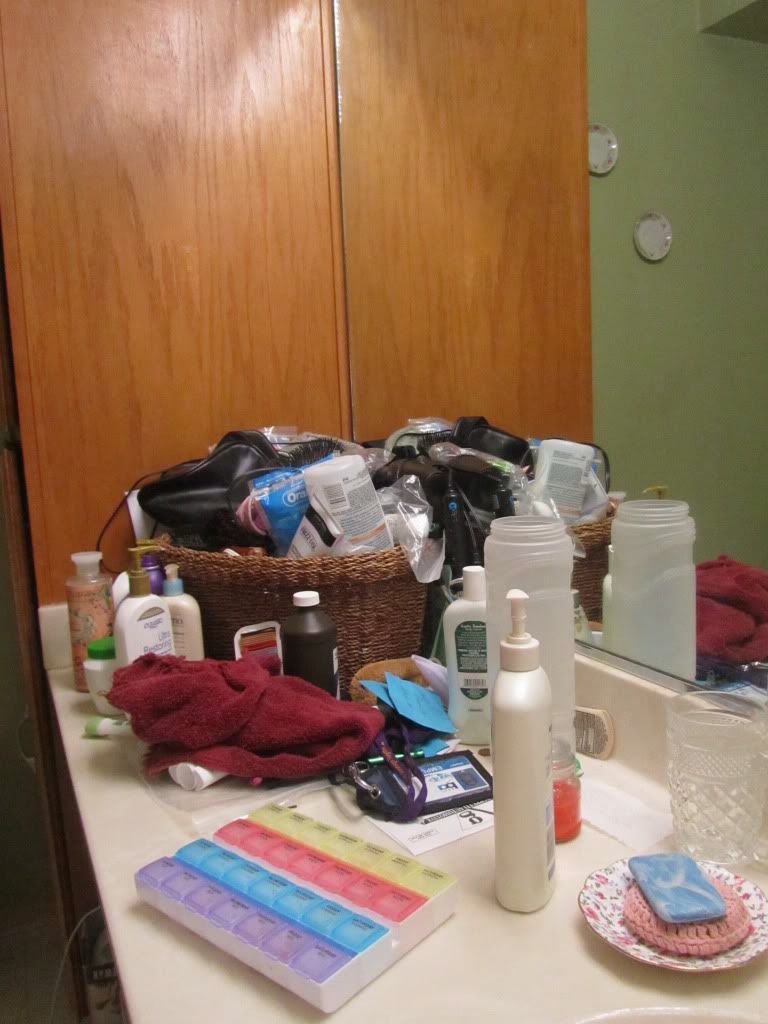 This is a before picture of my very unorganized bathroom counter. A few years ago I had the wonderful idea to set the basket in the corner in order to corral all of the items I use on a daily basis. It worked wonderfully . . . . for a while. Then at some unknown moment in time, the basket simply became a catch-all for anything and everything that we were too busy to put away or throw away. What an unattractive mess!
It has really been bothering me lately and I've been trying to think of more organized and attractive options for my stuff and this space. I had thought of a small shelving unit with cute baskets I could pull out when needed, but couldn't find what I had envisioned.
Today during a random stop by Tuesday Morning I found something I hadn't thought of, but was perfect - something practical and beautiful! After dinner, husband became engrossed with an editing project at the computer and I seized my chance. Daughter and I snuck my finds into the bathroom and quietly closed the door. After about an hour of cleaning, sorting, and organizing I now have a new, pretty bathroom to greet me each morning - - - -
Most used items (toothbrush, facial scrub, face cloths, and brush) are in the top box.
Next are cosmetics and nail polishes.
Third is all of our hair accessories: scarves, bands, barrettes, ribbons, etc.
And the bottom box contains blow dryer, curling irons, curlers, and extra brushes.
I'm smiling!
***Updated 2/12/11 to add: It has been over a week and my bathroom is still nice and clean! Everything in its' place - although a few items might have migrated from one box to another for convenience! I'm STILL smiling!