We journeyed over the hill to our County Library's Annual Book Giveaway today.
We missed last year due to our vacation, so the children wanted to be sure and go this time.
Well, it was worth the trip. I found quite a few worthwhile books both for school and personal reading, as well as a few books for friends on particular subjects that I know they are studying or interested in.
The biggest prize of the day, for Science Guy, was a set of Science Encyclopedias. A 20 volume set, brand new — they look like they've never been touched. For
Free
.
He wanted to impress Dad so we looked up how much the set was worth if we had purchased it.
Are you ready?
I wasn't.
Here goes -
The McGraw Hill Science and Technology Encyclopedia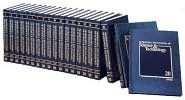 can be purchased through Barnes & Noble.com for $3,000.00!!!

Wow!

Double Wow!

Okay — Triple WOW!

He's enjoying them even more now, knowing how much they are worth -

And I'm feeling pleasantly frugal.

This post was originally published @ Homeschoolblogger.com/ButterandHoney